Thirty-One Gifts Review 2018: Update 11/8/2018
I just published an updated video review of Thirty-One Gifts on my YouTube channel like you can see below.
I need to admit that my original review was probably a bit too "harsh" towards Thirty-One Gifts so I wanted to create an updated version where I give them more credit.
In the video, I also teach you the 4-step process how you can start making money with Thirty-One Gifts or basically with any other company.
If you have any questions, don't hesitate to ask me and I will be more than happy to help you out.
---
I am glad to publish this review of Thirty-One Gifts. I am sure that it will help many people who are interested in this program. One of our readers said that she had greatly enjoyed this program so I wanted to give a closer look.
In this review, I will explain if it's a good money-making opportunity, what kind of products do they have, what kind of reputation do they have, is Thirty-One Gifts a Pyramid scheme and so on.
Fasten your seat belts! Because the next two minutes will be pretty intensive. Let's dig deeper into this company together.
Thirty-One Gifts Review
---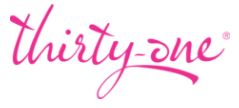 Name: Thirty-One Gifts
Website: www.MyThirtyOne.com (Check Out Their Products on Amazon)
Founded: In 2003 by Cindy Monroe
Price: Enrollment Kit $99
Field: MLM-Programs
Overall Rank: 30 Out of 100 (Check Out My #1 Recommendation, 98 Out of 100)
---
What Is Thirty-One Gifts?
Thirty-One Gifts is a Multi Level Marketing (MLM) company founded by Cindy Monroe 14 years ago back in 2003. Its purpose is to empower women and help them to create a successful business. "Thirty-One" to the last chapter of the Proverbs in the Bible.
I found that very interesting but then I found out that this company is supporting Planned Parenthood and some organizations that support abortion. That's why I found this very controversial because I'm a Christian myself.
Thirty-One Gifts grew rapidly and its golden years were around 2012. They had more than 90,000 distributors all around the U.S. and Canada. Their yearly turnover was more than 1 billion. But I noticed that the popularity of this system is little by little going down.
But let's find out what kind of products do they have.
Thirty-One Gifts Products
Most of their products are bags and storage products. But they also have wallets, jewelry and something similar. Their target person is clearly a woman. They use lots of pink color on their website and everything seems to appeal to women.
They don't call their manly products normally like, "Men's products" but they are "Gifts for him" as you can see in the picture below. This means that women are dealing with themselves and a man isn't involved in this system.
The products are so much overpriced like in some other MLMs like for example in Party Lite. But I think that you could still buy these similar products for a cheaper price in a local store. You can also have a look at their prices on Amazon. What do you think?
I always say that MLM-systems are built so that you need to pay a little bit extra. Otherwise the system would collapse because distributors need to pay their uplines as well.
Are Thirty-One Gifts Products High-Quality?
I noticed that they were a few complaints on the Internet about their products. The backpack ripped off in a week or something like that. I have used the same backpack (not from Thirty-One Gifts) for almost 10 years and it's still working well. If their backpacks really rip off after a week, I don't know why do they cost so much.
Of course, there are complaints on the Internet about any company and any kind of products. But still it's wise to take this feedback from the customers with respect.
Thirty-One Gifts Earning Potential
In order to get started, you need to buy an enrollment kit for $99. That includes 12 Thirty-One Gifts products and helps you to get started. In the system you will earn 25% of your sales.
I think it's pretty good but it also tells how much extra these products have on their prices. It's not very common to earn 25% commission as a salesperson of physical products. Or what do you think?
Then you will earn 2-9% from your downlines depending on how many levels lower they are on the pyrami… KRRHMM… ladder than you are. Here is a video that explains the compensation plan very thoroughly.
Warning! I don't recommend Thirty-One Gifts. The video is embedded just to give you information about their compensation plan.
All of their most successful salespersons are women. I am not even 100% sure if a man could join their system. Anyway, if you are man, forget Thirty-One Gifts and have a look at better money-making opportunities.
A Tough Reality Behind Shiny Cover
Thirty-One Gifts may sound like an interesting money-making opportunity at first. But did you know that more than 99% of people who join this kind of MLM-programs, lose their money? That's a report according to Federal Trade Commissions. It means that gambling or even playing the lottery is more profitable and promising.
Thirty-One Gifts has been accredited with +A-rating by Better Business Bureau. It can be a good sign but I have heard that some MLM-programs have even hired teams to get good ratings from BBB and other similar organizations (the other name for this is bribing).
In theory, you are not forced to buy their products for more than $99 when you enroll, but the reality may be different. If you want to show products to your friends in parties, it's better that you have bought the products yourself so they can touch and feel them.
In addition, you are forced to make at least $200 in sales every 3 month or you will be put inactive. I know that this forces some distributors to buy new products themselves because they are not reaching the target but they still would like to hang in there.
After all, you are very dependent on their company and you don't have so much freedom MLM-companies always advertise. With affiliate marketing you have a full freedom of your business. You don't need any inventory and you can totally decide what kind of products you want to sell.
Pros & Cons
Pros:
Many of their products look nice
The company enjoyed lots of success a few years ago
Their purpose is to empower women
Cons:
$99 enrollment fee
You need to make minimum $200 sales every 3 months in order to continue
Their products are a bit overpriced
They have supported some abortion organizations
Conclusion – Is Thirty-One Gifts a Pyramid Scheme?
It depends on how you think about MLMs. Some people say that all MLMs are pyramid schemes. I have also heard that this kind of programs only take your money, ruin your friendships and relationships with your relatives. Well, it may be a little bit of exaggeration but sometimes that has happened with MLMs.
I think that there are much more interesting opportunities than Thirty-One Gifts.
My #1 recommendation offers 20 interactive video lessons on how you can create a profitable online business. Now we are talking about the big opportunity that has helped probably thousands of people to quit their job because of their online income. Even +$10,000-20,000/month is possible.
It's 100% free to get started and there is not any catch. It only takes 10 seconds to sign up. And by the way, that's not a MLM-system. It's called Wealthy Affiliate.
Thirty-One Gifts at a Glance…
Name: Thirty-One Gifts
Website: www.MyThirtyOne.com
Founded: In 2003 by Cindy Monroe
Price: Enrollment Kit $99
Field: MLM-Programs
Overall Rank: 30 Out of 100
Do you know somebody who has been involved with Thirty-One Gifts or similar programs? What did you like it?
Have you already found better money-making opportunities than MLMs?
Let me know in the comments below! 🙂
I am always very happy to hear experiences from our readers and visitors. That's why I promise to reply to every single comment personally within 24 hours.